Nrep strengthens leadership team to support rapid growth with double partner promotions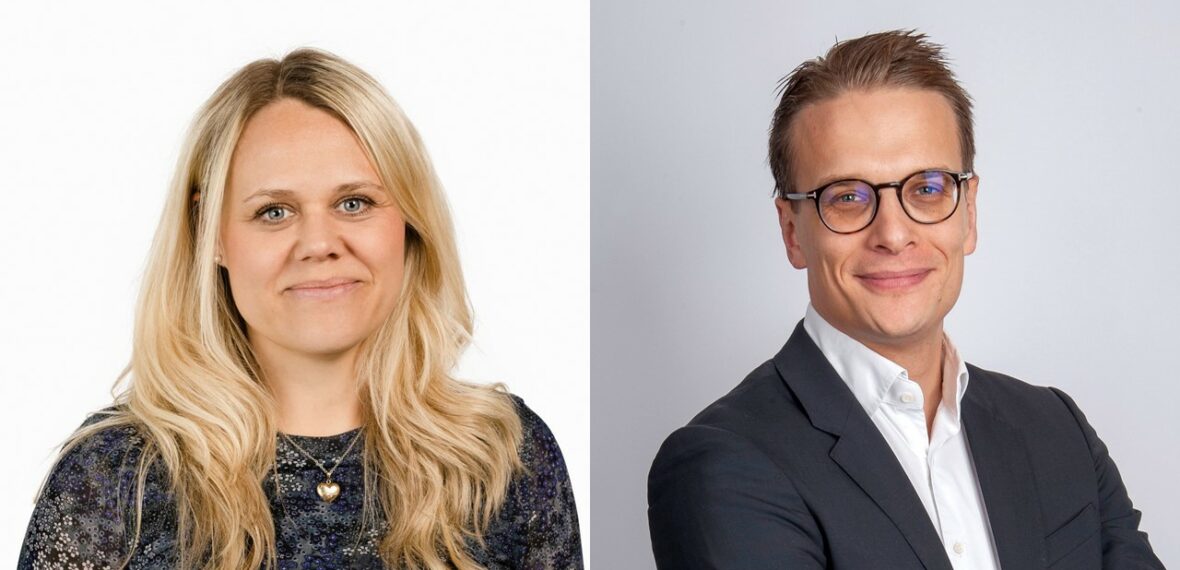 Valuable contribution of two longstanding Nrep members recognised with promotion to partnership, while wider team sees 75% annual growth with over 200 new hires made
Leading Nordic real estate investor Nrep announces that it has promoted Didde Maria Kristensen and Alfred Eklöf to Partner as it bolsters its leadership team to support the wider business' growth. These promotions increase the partnership to 16 and mark a pivotal period of expansion for Nrep, which has added 205 new members to its 475-strong team across eight countries over the past year, entering new geographies and product areas that align with its mission to solve challenges in the urban eco-system.
Didde has been with Nrep since 2015 and currently holds the role of Head of Investor Relations, placing her at the forefront of the business' impressive track record in capital raising and from an increasingly diverse investor base. In a career spanning over 15 years, Didde has held roles in investor relations and M&A with two other leading Danish institutions, while her most recent focus at Nrep has been on effectively communicating the company's philosophy of making real estate better.
Didde Maria Kristensen, commented: "Nrep has always been a place I'm proud to say I work. Partnering with our investors comes with an inherent responsibility to ensure that our clients' funds are allocated responsibly and directed towards projects that make a tangible difference to society, meet present and future needs and generate attractive returns. It's this deep-seated credibility that has been key to both my personal and the firm's success, so it's a pleasure to join Nrep's partnership and play a more active role in furthering its positive impact."
Alfred is an Investment Director at Nrep and has been with the business for over seven years, joining in 2014 from McKinsey. Alfred has played a key role in building up Nreps market leading logistics business, Logicenters, and he most recently spearheaded Nrep's semi open-ended Income+ fund, the largest Nordic core-plus fund to date. Alfred's investment success can be attributed to a clear focus on societal and demographic trends which shape the way we live, work and play, and consequentially use real estate.
Alfred Eklöf, commented: "My work with Nrep has seen me on the front line of what it is that we ultimately do which is sourcing unique investment opportunities for our clients. The ingenuity and agility that we as a business can offer is unparalleled, and I look forward to taking on an elevated position when it comes to delivering solutions that enhance the urban eco-system."
As Partners, Didde and Alfred will play a key role in safeguarding Nrep's purpose and value-led culture.
Claus Mathisen, CEO of Nrep, said: "It's with great pride that we welcome Didde and Alfred to Nrep's partnership having worked with them both closely over the past number of years and witnessed their contribution to the business' success. Nrep is on an exciting growth trajectory which is wholly attributable to talented and dedicated individuals such as these who constantly seek to deliver value-creating solutions for clients and customers, whose personal values so deeply align with those of Nrep and who share the leadership team's commitment to sustainability and a vision to leave behind a more positive social and environmental impact.'
Nrep is the largest real estate investment manager in the Nordics with approximately €14 billion of assets under management. It has long pioneered sustainability in real estate, which has played a central role in its value creation strategy, and has committed to being carbon neutral by 2028 without offsets. Spearheading initiatives to date include the use of CO2 neutral geothermal heating, projects such as the world's first 100% upcycled concrete building and 'UN17 Village', the first large-scale project to align with all of the UN's 17 Sustainable Development Goals.

Click to see photos below.